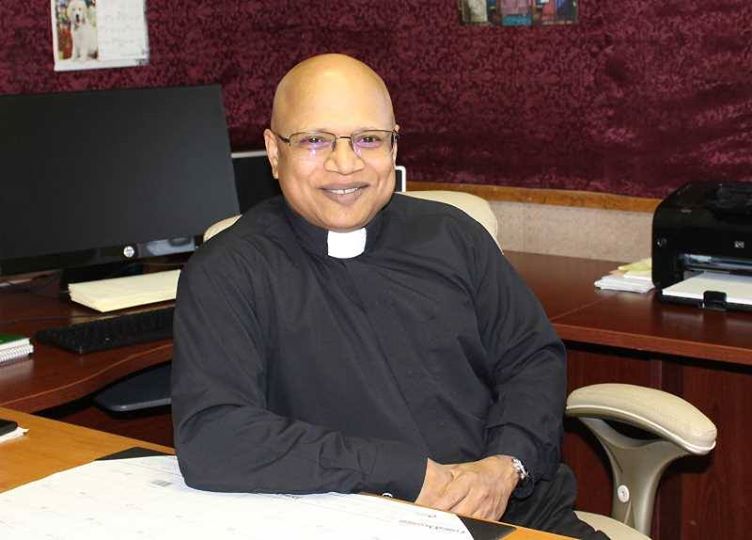 FATHER JOSEPH KUNNELAYA
I am Fr. Joseph Kunnelaya, presently the Administrator of St. Joseph Catholic Church, Prineville. I was ordained on November 5th, 1984.
I was born and raised in St. Xavier's parish, Kothavara, Kerala, India. I am fortunate and proud to belong to a Catholic community which is called St. Thomas Christians. I am also fortunate to have had very pious and God fearing parents from whom I learned to pray daily family prayers, rosary and other devotions.These practices gave me a desire to become a priest early in my life. Carmelite Nuns and the priests from our parish would tell us in our catechism classes, stories about Saints and Missionaries. When Missionaries belonging to our parish came for vacation, they would share their experiences with us, as well as with the altar boys and Sodality members. The Missionaries would tell us about their lives in the Mission, and would encourage us to become Missionaries. So, it was natural for me to think about becoming a Missionary priest even before I started my middle school. The models I had were my parish priests and the Missionary priests from my parish.
After graduating from high school in 1972, I joined Daltonganj diocese in North West India to become a Missionary priest. I completed my seminary studies in Ranchi, Allahabad and Pune and was ordained a priest in 1984.
Soon after my ordination I worked in my diocesan office as the Treasurer of the diocese for three years. During this time, I completed my Master's degree in English Lit. from Agra University.
I was sent to the United Stated in 1988 to pursue graduate studies at St. John's University, New York, which I completed in 1991 with a focus on psychology, rehabilitation counseling and spirituality.
While studying, I also served parishes in Pennsylvania and New York before returning to India in 1991. Among other duties as pastor and High School Principal, I worked as the Director of Seminarians and Rector of St. Mary's Minor Seminary for 18 years, in Hazaribag, my diocese, in eastern India. I came to Diocese of Baker in June, 2013.
I spent a few months in Redmond and Klamath Falls before being appointed as the associate pastor of St. Francis of Assisi Parish, Bend in September 2013. After three years, Reverend Bishop Liam Cary appointed me the Administrator of St. Joseph Catholic Church in Prineville, on October 6th 2016.