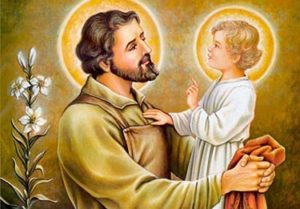 Patron of the Universal Church, unborn children, fathers, workers, travelers, immigrants, and a happy death.
We know he was a carpenter, a working man, for the skeptical Nazarenes ask about Jesus, "Is this not the carpenter's son?" (Matthew 13:55). He wasn't rich for when he took Jesus to the Temple to be circumcised and Mary to be purified he offered the sacrifice of two turtledoves or a pair of pigeons, allowed only for those who could not afford a lamb (Luke 2:24).
Despite his humble work and means, Joseph came from a royal lineage. Luke and Matthew disagree some about the details of Joseph's genealogy but they both mark his descent from David, the greatest king of Israel (Matthew 1:1-16 and Luke 3:23-38). Indeed the angel who first tells Joseph about Jesus greets him as "son of David," a royal title used also for Jesus.