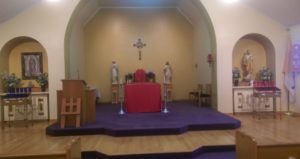 History of St. Joseph Catholic Church, Prineville
On the feast day of St. James, July 25, 1880 Archbishop Seghers celebrated the first Mass in Prineville.
Fr. J.J. McDevitt, Pastor of Crook and Harney Counties, occasionally celebrated Mass at home of George Meyer between 1899 and 1902. Fr. George Doyle, followed by Fr. M.J> Whyte, replaced Fr. McDevitt. The Diocese of Baker was established by Pope Leo XIII on June 19, 1903. Franciscan Priests occasionally celebrated Mass in Prineville from 1907-1922.
Fr. Luke Sheehan and his assistant, Fr. Dowling, were assigned to Bend in 1910. Prineville was a mission of Bend. In 1913, Mass was held upstairs in Odd Fellows Hall. Fr. Sheehan had anew church constructed on E. Third and S. Court Streets for $3000 in 1915. Dedicated by Bishop O'Reilly on May 23, 1915. Twenty-two people were confirmed. In 1935, Mass was held every Sunday, alternating 8a.m. and 10a.m.
Mass with Redmond. Altar Society was active. Men started fire by 6a.m. for 8a.m. Mass. In 1941-1943, Fr. John O'Donovan came from Redmond to celebrate Mass.
Claiming to be the oldest city in Central Oregon and the closet to the center of the state, Prineville is actually one of the younger parishes in the Diocese of Baker. Fr. Thomas McTeigue was appointed first resident Pastor on July 16, 1943 and continued to serve the parish until his death in December of 1960. Prior to that, Catholics of the areas wee served as a mission Church, first from Burns and then successively from Bend (1910-1941) and Redmond (1941-1943). The First Mass was celebrated in the new Church on Palm Sunday, the construction of the Parish rectory completed on December 22nd and the old church property sold in the same year, 1950. In 1951, Bishop O'Brien, Catholic Extension, dedicated the new church and rectory.
In 1961, two lots on First Street was purchased from John Solitz. Monsignor Matthew Crotty became Pastor from 1962-1972. Four annual sessions from 1962-1965 of the Second Vatican Council took place. In 1963, catechetical Center built and dedicated on May 26 by Bishop Leipzig. Parish Hall constructed in 1965, Sherwin house purchased and remodeled for convent. Hall and Convent dedicated on August 20. Three Franciscan Sisters came to Prineville to teach Religious Education. First Parish Council meeting in 1968.
Monsignor Patrick Gaire became the Pastor from 1972-1977 while Monsignor John Phelan took over as Pastor from 1977-1982. Communion in the hand and face to face Confession initiated.  DeSales Classes began in 1981 and Fr. Charles Dreisbach came in as Pastor from 1982-1986. Fr. Gerald Condon took over as Pastor from 1986-1989. In the same year of 1989, St. Vincent de Paul initiated to Parish with John Solitz as President and Flo Solitz as Secretary.
Fr. Robert Simard came in as Pastor from May 1989 to May 1999. Renew Program started in 1990 while MOM'S group was formed in 1991. In the same year, 1991, the fellowship activities started in St. Joseph, Prineville: Family Prayer Night began in April, Summer Mass Schedule changed from three Masses to two Masses – 6p.m. Saturday and 9am Sunday. In September, three "Open For a" were held to discuss turmoil in Parish. Spanish Mass started.
In 1994, the first Annual festival of Faith held in The Dalles on August 12-14.  This is a gathering of entire Diocese.
Fr. Jim Logan took over as Pastor from September 2000 to June 2002. Fr. Robert Greiner was posted to the Parish as Pastor from 2002 to October 16, 2013. Fr. Christopher Ehidiamhen came as Pastor on October 17, 2013 to September 2, 2016. Fr. Joseph T. Kunnelaya came as Pastor October 7, 2016.